[advance ticket beginning to sell] The thirteenth liquor Festival aimlessly spring Ginza!
Period

From March 4, 2017 to March 5, 2017
Common usage, charming sights of Ginza!
Sake tasting stamp rally with oldness and seven prefectures of shops.
[spring liquor Festival]
[participation fee (stamp card charges)]

Advance ticket 1,400 yen

,

today's ticket 1,500 yen
※The first 1,000 people limit in all the stores
※Sale at advance ticket price until Friday, March 3.
Other than Hiroshima, Ishikawa, Ibaraki, Okinawa, Kochi, Fukui, Yamagata and liquor dokoroga assemble in full force!
We offer snacks! We have a lot of seasonal liquor and look forward to your participation.

※We download PDF of flyer when we click image.
(look at one that you are watching by operation to "open in new tab" with ※ smartphone.)
[two hours limitation! There is eve pre-holding, too! ]
We cannot wait until holding! For such a customer, we hold the day before only in two hours.
<< pre-holding >> Friday, March 3, 2017 from 17:00 to 19:00
[on the liquor Festival date]
Saturday, March 4, 2017 10:30 - 18:00.5 day Sunday from 10:30 to 17:00
Discount is full when we buy stamp card!
Service comes this and that if we show stamp card in each shop.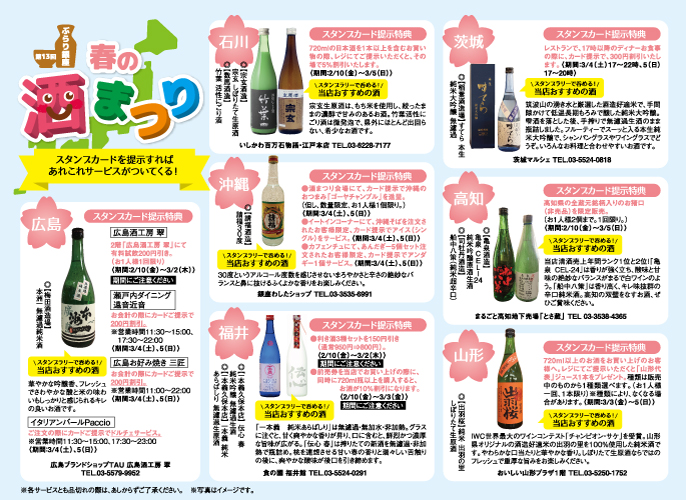 ★You can see extended image of each shop contents more each than the following.★
(look at one that you are watching by operation to "open in new tab" with ※ smartphone.)
<< Hiroshima >> << Ishikawa, Okinawa, Fukui >> << Ibaraki, Kochi, Yamagata >>
<< as for the PDF downloading of the whole flyer back side this >>
※I decline drinking of one where one, car of the minority are driven firmly.
※One sampling is one cup (approximately 50 ml). ※A lot of snacks offer, but thank you for your understanding on out of stock.
[Hiroshima liquor studio green

INFORMATION

]

Place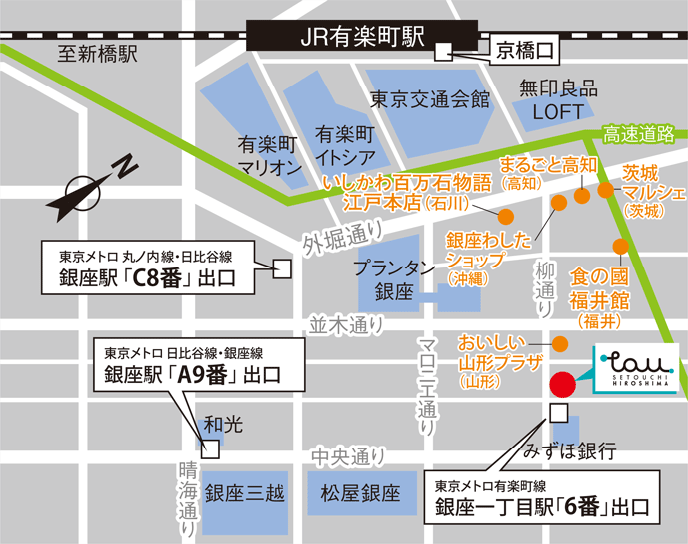 Past conduct contents

| | |
| --- | --- |
| Holding place | Hiroshima brand shop TAU others, Ishikawa, Ibaraki, Okinawa, Kochi, Fukui, each oldness and shop seven of Yamagata |
| Rate | Advance ticket 1,400 yen, today's ticket 1,500 yen |