We hold "higashihiroshima liquor Festival in Ginza"! (8/2 information update)
Period

August 5, 2017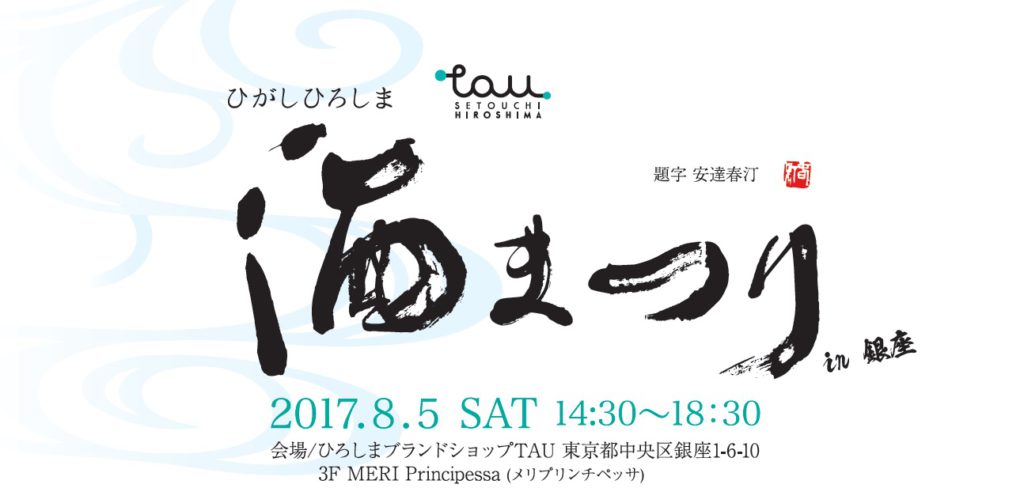 We hold "higashihiroshima liquor Festival in Ginza" in TAU!
Higashihiroshima-shi, Hiroshima with hometown "Akitsu" of rough sea, liquor dokoro "Saijo" eminent Japan along with Fushimi and Hiroshima chief brewer holds "higashihiroshima liquor festival in Ginza" in event space of TAU3 floor on Saturday, August 5.
By event, you can enjoy Hiroshima chief brewer talk show other than competition for drink of liquor of Higashihiroshima-shi.
At this opportunity, please enjoy liquor of liquor dokoro Higashihiroshima!
Date
Saturday, August 5, 2017 from 14:30 to 18:30
Place
Hiroshima brand shop TAU3 floor event space
Event contents

①We compare by drinking "liquor of Higashihiroshima"


Contents / liquor five cups + snacks plate
Is going to participate; sake brewery /
Kamotsuru (string) brewing, Fukumi person (beautiful woman boiling over) brewing, white peony (peony to vomit) brewing,
Tsuru Saijo (we have Saijo cramped) brewing, Kamo spring (Izumi) brewing, Sanyo crane (sanyotsuru) brewing,
Tortoise age (beautiful) brewing, Konko (Kanemitsu) brewing, Imada (yet) brewing main store, pattern (arrive) brewing


②Hiroshima chief brewer talk show


15:00 - Atsunori Miyaji chief brewer (Tsuru Saijo brewing)
16:00 - Toshiyuki Shinya chief brewer (Kamo spring brewing)
17:00 - Tadashi Kashima chief brewer (white peony brewing)
18:00 - Koji Tomoyasu chief brewer (Kamotsuru brewing)
※Tatsuya Ishikawa chief brewer of Hiroshima chief brewer ealdorman performs coordinator.
<< special guest >> is going to be appeared at about 17:30.


Movie "drop of love" supervision Naoki Segi



With "drop of love"
SAKE X LOVE STORY which we did on the stage of Hiroshima that had nichihonsandaimei*ji "liquor capital Saijo!" We start shooting this autumn!
---
Admission (ticket)
1,700 yen
※300 pieces of first arrival-limited
※Admission ticket is necessary to have you participate in event
Ticketing place
○We begin to sell on the second floor of Hiroshima brand shop TAU Hiroshima liquor studio "green" ⇒
Monday, July 10


○We accept WEB to begin to sell on ticket PIA [P cord 636-312] ⇒ Wednesday, July 5
Contact information
Higashihiroshima-shi industry department commerce sightseeing charging talk: 082-420-0941 FAX: 082-422-5805