News
Information
About reception desk period extension (until Friday, June 28, 2019) of "gambarou Hiroshima" "July, 2018 Hiroshima heavy rain disaster contribution"
In Hiroshima brand shop TAU, we install collecting box as help of protection to victims damaged by heavy rain disaster from July 5, 2018.
Collecting box which we installed in Hiroshima brand shop TAU attracted 14,204,562 yen and many contributions as of the end of November.
We appreciate that many of you gives support to heartily until now.
About reception desk of this contribution, it was said that it was until Friday, December 28, 2018, but reception desk period was extended until Friday, June 28, 2019.
As setting of collecting box in TAU extended, I would like your cooperation sequentially.
Contribution which had you cooperate is sent to victim through each municipality of stricken area of the whole area in Hiroshima as total amount, "July, 2018 Hiroshima heavy rain disaster contribution" (Japanese Red Cross Society Hiroshima Branch, Hiroshima community chest society, NHK Hiroshima broadcasting station, NHK public welfare culture corporation and Hiroshima).
In addition, please use as there is receptionist by account transfer.
Setting period
Until Friday, June 28, 2019
Setting time
From 10:30 to 20:00
Setting place
Product sales cash register on the first floor ※We install collecting box in cash register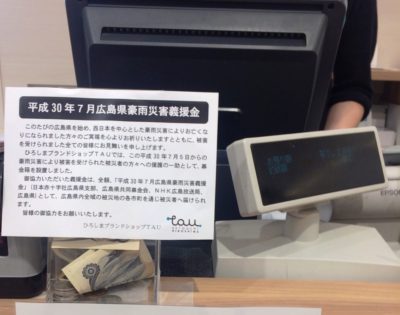 Copyright © Hiroshima brand shop TAU All rights reserved.