We hold conference 1/25, 26 (Friday and Saturday) [Tokyo] of "gambarou Hiroshima" HIROBIRO. Hiroshima work and living
Hiroshima recommended information
Hiroshima Prefecture Recommendation Information
We hold conference 1/25, 26 (Friday and Saturday) [Tokyo] of "gambarou Hiroshima" HIROBIRO. Hiroshima work and living
Period

From January 25, 2019 to January 26, 2019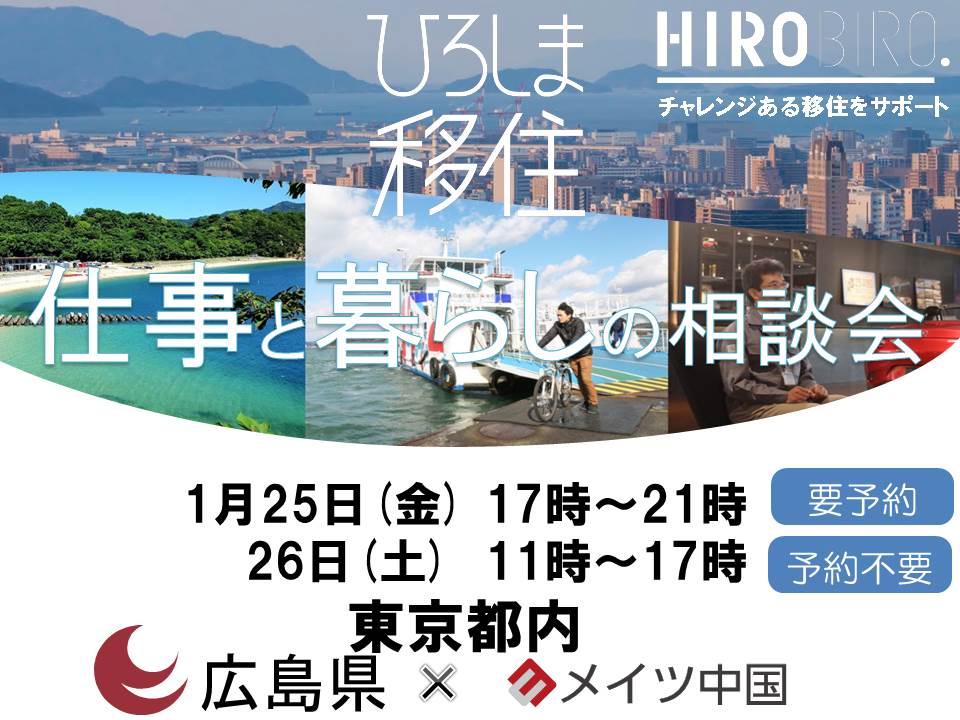 Hiroshima cosponsors conference of work and living with mates chugoku.
Do you not talk with human resources introduction company knowing a lot about change of job, employment circumstances of Hiroshima?
On Friday, consultation needs reservations for free of charge, 25 days and is no appointment necessary on Saturday for 26 days.
We do consultation of living.
[the date and time, venue]
The date and time: It is 21:00 from 17:00 on Friday, January 25, 2019
It is 17:00 from 11:00 on Saturday, January 26, 2019
Venue: Chugoku Shinbun Tokyo branch office (Nippon Press Center Building 2F)
(2-2-1, Uchisaiwaicho, Chiyoda-ku, Tokyo)
■Flyer this (355KB pdf.)
[the details, application, reference]
We take application from site of mates chugoku
Telephone: 0120-81-5406 (mates chugoku)
E-mail: syokai@mateschugoku.co.jp
[consultation reference of living]
Hiroshima prefectural government office area power creation section
Motomachi, Naka-ku, Hiroshima-shi 10-52
TEL: 082-513-2581
E-mail: chisouzou@pref.hiroshima.lg.jp
■Homepage of HIROBIRO is this place
Copyright © Hiroshima brand shop TAU All rights reserved.